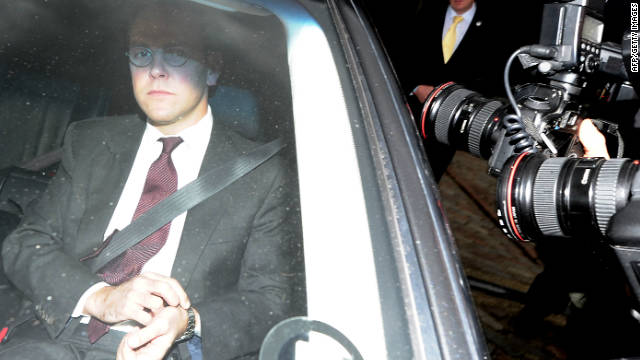 James Murdoch has previously denied to lawmakers he had any knowledge of phone hacking at the News of the World
London (CNN) -- The former top lawyer for the defunct News of the World tabloid is "pretty sure" proprietor James Murdoch knew about damning evidence of phone hacking known as the "for Neville" e-mail, he testified before a British inquiry Wednesday.
The lawyer, Tom Crone, said he held up a copy of the e-mail -- a transcript of messages obtained by phone hacking -- in a meeting with Murdoch on June 10, 2008.
Parliament published correspondence on Tuesday showing that Murdoch was warned in writing about the potential damage the "for Neville" e-mail could cause if a hacking victim made good on his threat to sue the company.
"Unfortunately it is as bad as we feared," the editor of the tabloid e-mailed Murdoch about the case.
The e-mail from Colin Myler appears to undercut Murdoch's repeated testimony that he did not know details about phone hacking by his employees.
Murdoch concedes in a letter to lawmakers, also published Tuesday, that he replied to the e-mail, but he does not admit having read it in full.
Murdoch is at the center of a scandal over illegal eavesdropping by the newspaper, which he shut down in July in the face of public fury at phone hacking.
Editor Myler e-mailed Murdoch in June 2008 about a phone-hacking victim's threat to sue News of the World, describing Gordon Taylor as "vindictive."
Myler requested that Murdoch meet him and the paper's lawyer, Crone, for "five minutes" on June 10.
Murdoch appears to agree in his reply three minutes later, but said in his letter to Parliament dated December 12 that he did not review the entire e-mail chain, which includes detailed correspondence about the Taylor claim.
News of the World ultimately settled with Taylor for 700,000 pounds (about $1.2 million.)
It also settled with several other celebrities, including actress Sienna Miller.
Myler is due to testify at the Leveson Inquiry, established by Prime Minister David Cameron in response to the phone-hacking scandal, later on Wednesday.
Police investigating phone hacking by journalists say that about 5,800 people, including celebrities, crime victims, politicians and members of the royal family, were targets of the practice by journalists in search of stories.
It involves illegally eavesdropping on voice mail by entering a PIN to access messages remotely.